Austria for Jesus - Österreich für Jesus
Calendar
Date

02.08.2018

-

05.08.2018
Description
Anmeldung/Registration (required): This email address is being protected from spambots. You need JavaScript enabled to view it.
...mit Ben Fitzgerald, Dr. Manfred Roth, Philipp J. Schmerold, Jeff Jansen und vielen anderen
Einladungsvideo Ben Fitzgerald und Jeff Jansen https://www.youtube.com/channel/UCR-5zPB_UYjyDJxcF36s_Jg/videos?view_as=subscriber
Donnerstag 19.00 Uhr, Freitag 15.00 Uhr, Freitag 19.00 Uhr
Samstag 10.00 Uhr, Samstag 15.00 Uhr, Samstag 19.00 Uhr
Sonntag 10.00 Uhr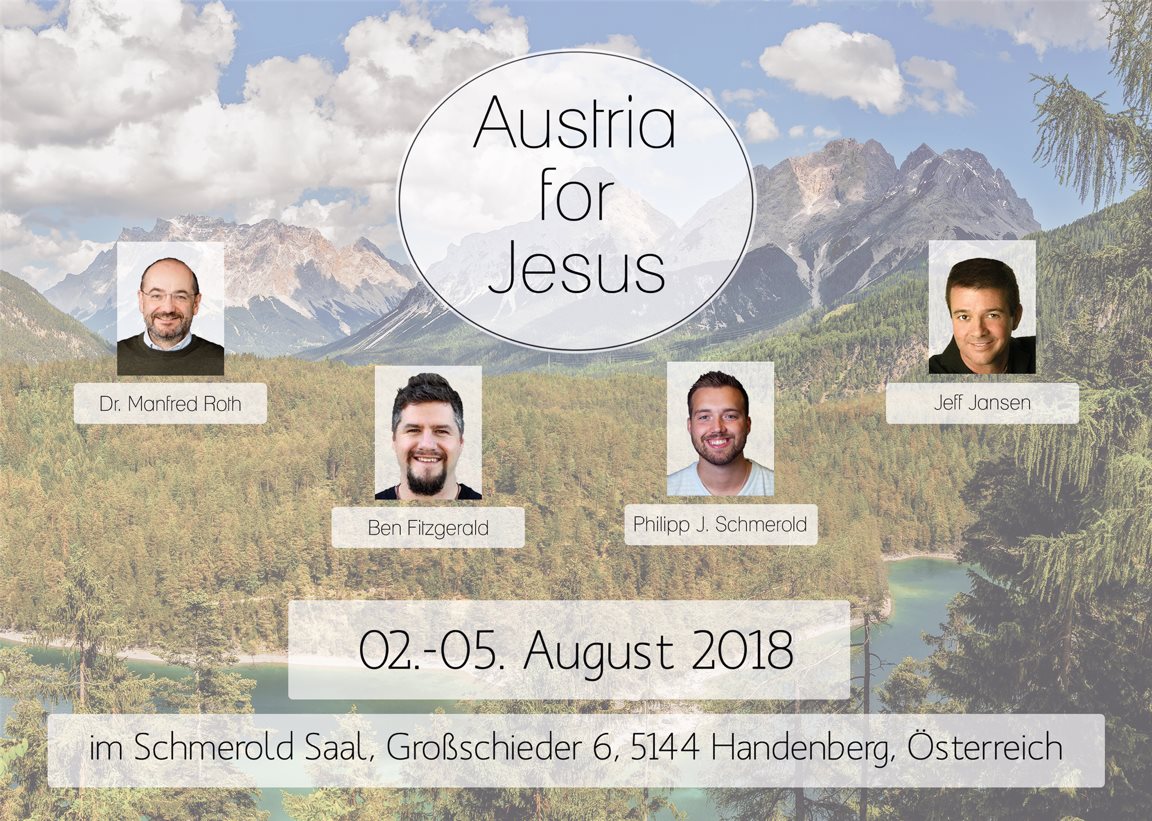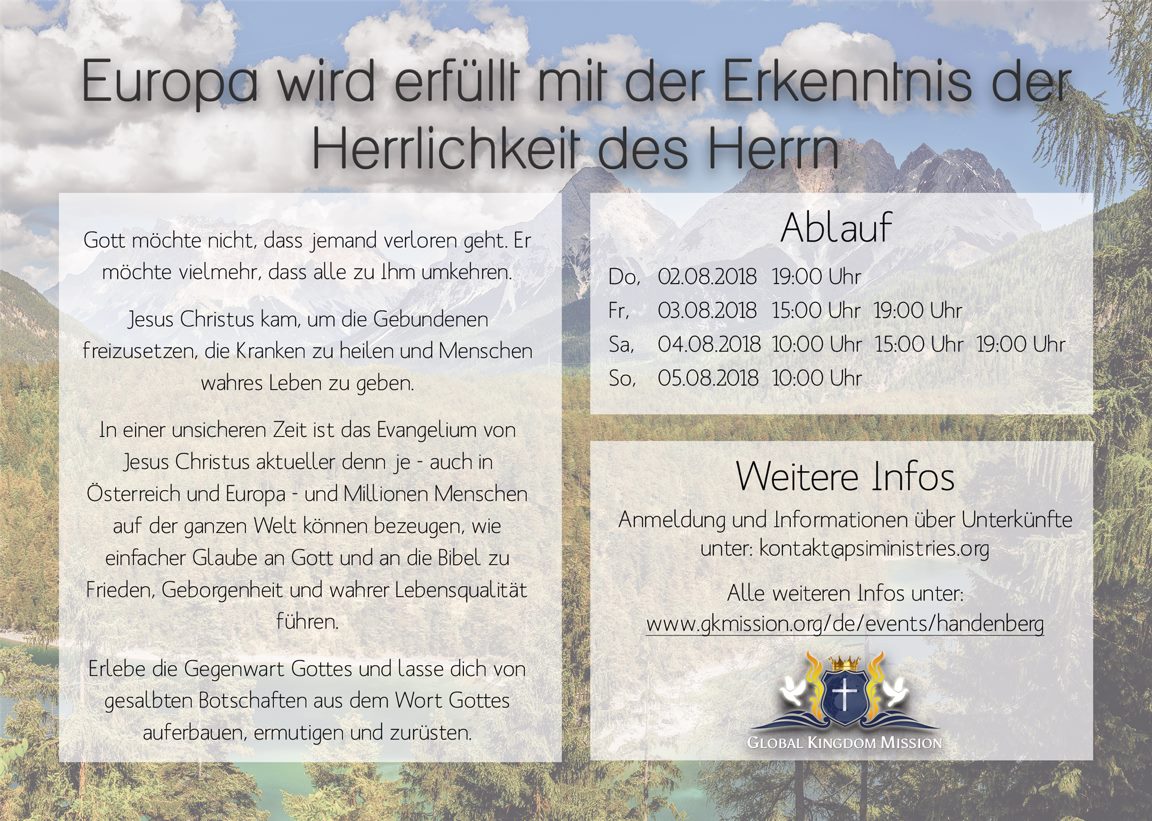 Manfred Roth leitet mit seiner Frau Katharina das Biblische Glaubenszentrum Schaffhausen. Gemein­sam sind sie Gründer und Leiter der FamousWord Bibelschule, die das Ziel hat, Gläubige auszurüsten und in ihre Berufung zu bringen. Ihr Herz schlägt für ein unverfälsch­tes, biblisches Christentum in der Fülle von Gottes Kraft. Pastor Manfred hat im Dezember 2009 eine Übersetzung des Neuen Testaments herausgegeben, die nun in der dritten überar­beiteten Ausgabe (2018) vorliegt. Er ist Autor mehrerer Bücher über den biblischen Umgang mit Finanzen. Alle seine Publikationen sind über den FamousWord-Webshop erhältlich. Manfred Roth hat einen Doktortitel in Theologie (Doctor of Theology) von SBTSU (School of Bible Theology Seminary and University).
Ben Fitzgerald ist ein leidenschaftlicher Liebhaber von Jesus und Leiter von Awakening Europe und GODfest Ministries. Er verbringt viel Zeit damit, als Evangelist zu reisen und war für mehrere Jahre Pastor in der Bethel Church in Redding, Kalifornien. Ursprünglich aus Australien, lernte er Jesus in einer Begegnung in 2002 kennen, während er Drogen dealte. Seitdem lebt Ben hungrig nach einer Sache - der Welt Jesus in seinem täglichen Leben zu zeigen und die Gute Nachricht des Königreichs zu den Nationen zu bringen. In Galater 5,1 heißt es: "Zur Freiheit hat Christus uns befreit!" und ausgerichtet auf diese Mission liebt er es, Menschen zu helfen, in Gottes Fülle der Freiheit und Identität zu leben. Er hat eine tiefe Überzeugung, dass die Zukunft der Nationen von Europa durch radikal Glaubende verändert wird, die frei leben und Jesus mutig bekannt machen.
Jeff Jansen is Founder of Global Fire Ministries International in Murfreesboro, TN. The mission of GFMI as an Apostolic and Prophetic ministry is to pave the way for personal, city, regional, national and World revival. The ministries of GFMI include: Global Connect, Global Fire Churches, Kingdom Life Institute, Global Fire TV, and international conferences and crusades. Jeff Jansen is well known for his Miracle/Healing anointing and Prophetic ministry worldwide, often giving revelatory directives for not only individuals but regions and nations. Jeff is also founder & Senior Leader of Global FIre Church Murfreesboro, from which the Global Connect initiative of church planting and networking was birthed. Jeff Jansen has authored five books and is a contributing author to two other books along with James Goll, Patricia King, Bob Jones and others.
Philipp J. Schmerold war als Jugendlicher tief in der rechtsradikalen Szene und sein Leben war von Hass und Gewalt geprägt, bevor er durch die Liebe Gottes eine tiefe Transformation erlebte, Jesus ihn auf übernatürliche Weise wiederherstellte und ihn zum Predigen berief. Die Leidenschaft seines Lebens ist es, ein Freund Gottes zu sein, und Ihn bekannt zu machen. Seine persönliche Zeit mit Gott und Liebe zur Gegenwart des Heiligen Geistes, entfachen das tiefe Feuer in seinem Inneren, den Gläubigen, sowie auch den Verlorenen zu dienen. Philipp ist ein Absolvent der Bethel School of Supernatural Ministry in Redding (Kalifornien), ist der Gründer von Global Kingdom Mission und wohnt derzeit in Österreich.